Introduction
Establishing an Effective Support Relationship
The effectiveness of any support interaction depends on the technical knowledge, problem-solving skills and communication skills of both your users and our Logsign Support Engineers. The purpose of this guide is to help you manage your business more effectively and achieve high quality technology services in your support interactions with Logsign. We work to ensure your success by providing industry-leading, world-class services and support.
Logsign Support Service
Logsign offers world-class support to Logsign investments they store and help them take full advantage of that support. Logsign trained technical support personnel are available around the clock (24 hours a day, 7 days a week) to help customers and business partners use, manage and troubleshoot Logsign product quickly and easily. In addition, Logsign provides access to documents that can be used to understand product features and management through the Logsign Support Portal. Our sun-tracking support model ensures that high priority tickets can be transferred seamlessly to provide full support while solving critical issues. Logsign support engineers manage the ticket over the latest details
and status of each ticket using a single unified ticket tracking system. Customers can open tickets online through the Logsign Support Portal. Tickets are assigned directly to our resolver teams for research and resolution based on engineer skill sets and availability. Resources are prioritized for optimized response to critical issues. Our goal is to make your Logsign support experience simple, seamless and effective. So you can focus less on the problems and more on how our products and services will help your business.
Support Center
If you have a problem using the Logsign product, need help resolving an issue, or would like to suggest a feature enhancement, please go to the Submit a Request tab on the Logsign Support Portal. A member of Logsign Support team will respond to you as soon as possible.
Support Ticket Lifcycle
All support tickets go through a consistent lifecycle, whether opened via the web or phone. Creating an Online Support Request is the fastest way to apply for support.
The stages of the ticket lifecycle include:
Profiling
Your Logsign Support Portal journey begins with the creation of a support account. If you do not have an active account in Logsign Support yet, you must create a Customer Profile and become a member. Enter a full name and email address and you will receive an email from support@logsign.com stating that your account has been created.
Information Gathering to Accelerate Resolution
Creating a Support Request
Portal: https://support.logsign.com : Complete the required fields, provide a detailed description of the issue, and attach event logs and files (as appropriate) where necessary.
Support phone number: 0(850) 533-2112 : Logsign Support Team is on duty 24x7 to receive support calls.
Customers can request assistance with Logsign products by creating a ticket. Each ticket opened should contain a summary and detailed description of the issue. When a ticket is created, Logsign Support team will work to resolve the issue and provide the following services:
Attending web conferences as needed to further analyze the issue.
Providing possible solutions for reported problems, researching and implementing workarounds for solutions requiring improvement
Make sure the issue is prioritized and implemented correctly.
Providing the client with frequent updates on the progress of the investigation
Applying the appropriate solution
Please take care to provide as much detail as possible when you open the ticket to Logsign Support team. This helps us direct your request to the right team to assist you and speeds up the troubleshooting process. Information such as log files, error messages, and screenshots should be uploaded at the time of support ticket submission, if possible.
Working on the Problem
A Logsign Support Engineer is assigned to your Support ticket to review the details and start the investigation. From time to time, it may be necessary to assign a support ticket from one group to another for timely and accurate resolution. The assigned engineer will contact you through the ticket as appropriate during the resolution process. It is the customer's responsibility to have the appropriate people and resources to work with the Support Engineer during the resolution process. The engineer will work through the steps to first fully diagnose the problem and then find a solution. This may include, but is not limited to:
Asking you for more information,
Trying to reproduce the problem on Logsign side,
Implementing and testing workarounds that might prevent the problem.
Viewing and Updating Open Support Requests
You can view the status of the Support tickets you have created by Logsign by logging into your account on the Logsign Support Portal. You can add comments and/or upload files to your ticket at any time.
NOTE: If the priority of the created support ticket has changed or if you think it was not prioritized correctly at the beginning, you can ask the Logsign Support Engineer to increase the priority level of the support ticket.
Support Request Closing
When the problem you have submitted in your support request is resolved, the Logsign Support team will contact you and move the ticket to the resolved state. The Logsign team waits 48 hours for the information requested from you regarding the support request and attempts to contact you twice during this time. Tickets with no response are moved to the resolved state.
Logsign Support Portal
Technical Support
Please use this issue type to report services and components or infrastructure support that directly impacts the product. Please describe your issue in the fields provided and attach log files or screenshots if needed. Technical support requests may include, but are not limited to:
Custom Data Source Integration: Use this form if you need help adding a data source or have parsing issues with custom content.
On-premises Upgrade or System Migrations
Create a Custom Policy/Threat Model: Use this form if you need help configuring a new policy or threat model. Use this form to request restoration of archived or offline events.
Use this form if you are unsure of the request category.
Support Languages
Logsign Support team offers direct support in English for all our operating centers. Administrators and users are expected to be able to work in English outside of our Turkey offices. Our Turkey-based team offers direct Turkish language support to customers in that country. Logsign has a number of multilingual Logsign Support agents, however due to the volume of cases for Logsign we cannot be sure that you will have access to a support agent who can work on cases in your language.
Proposing a New Feature
We are constantly improving and updating our products. Open a service request to suggest improvements and new features using the "Feature Request" link provided in the form. Our team will review your request and get back to you as soon as possible.
Understanding Support Priorities
Priority level is a measure of the relative impact of a technical issue on your environment or business. Defining the priority correctly ensures timely response and helps Logsign to understand the source of your problem. The priority level defines targeted timeframes for first responder targets and escalation potential. This process helps the appropriate resources within Logsign to quickly and efficiently manage issues based on their Priority level. All tickets are prioritized according to their impact on the customer (from Critical Level to Low Level).
Critical priority means there is a critical production issue that affects all users, including system unavailability and data integrity issues with no workaround. For all tickets with critical priority, please specify and detail the impact of criticality and ensure priority is maintained.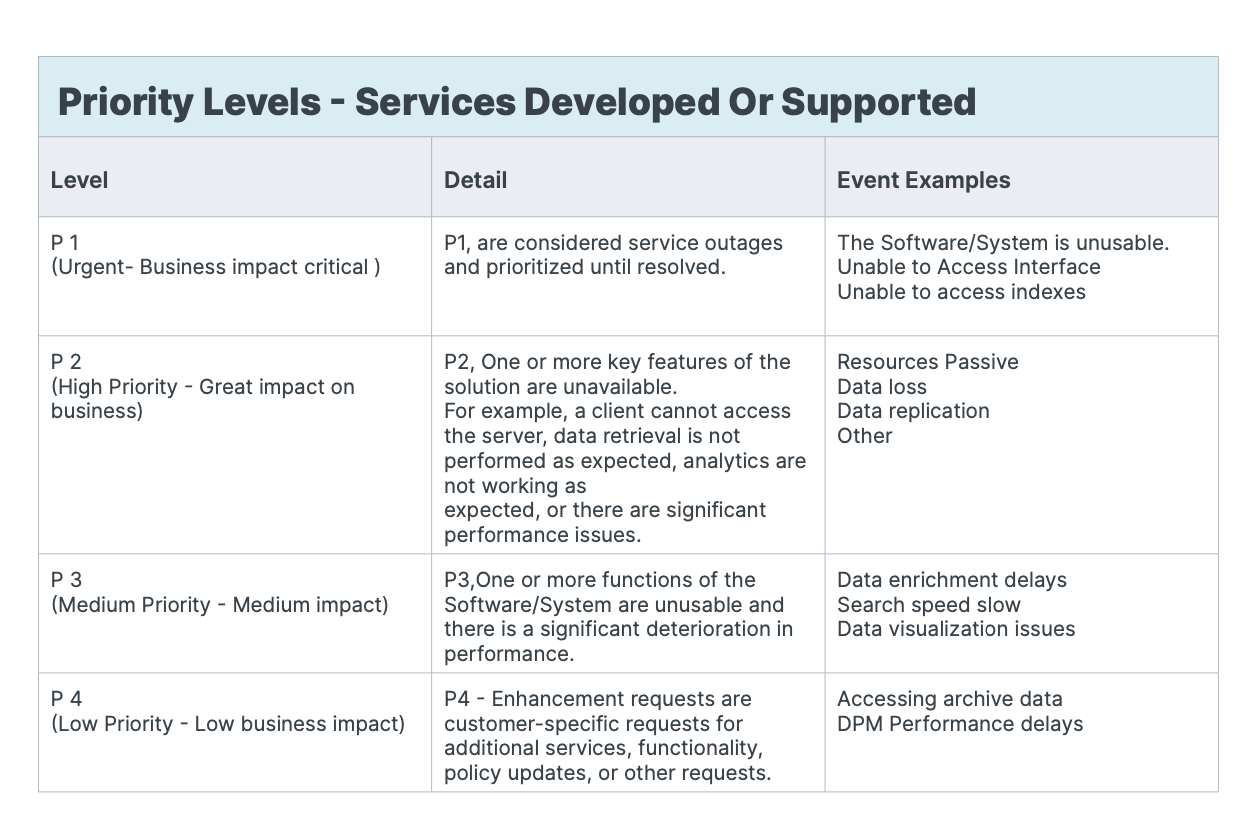 Response Time Goals
Logsign will make reasonable commercial efforts to respond to support requests submitted by Customers on a priority level, taking into account the First Response Time.
Logsign support team is on duty 24x7 to receive support calls to provide technical support and guidance. The Logsign Support Team's responsibilities include, but are not limited to:
Proactive monitoring of application and infrastructure, troubleshooting issues identified during monitoring, and working with resolver teams to resolve issues.
Saving your support tickets accurately and completely in our tracking system Provide you with the tracking number used to identify your support request
Setting appropriate expectations for initial response times, based on your support contract and the severity of your issue.
Investigating, identifying and resolving the incident and subsequent problems.