Overview
Acronis Cyber Protect Cloud combines backup, next-generation AI-based anti-malware, antivirus, and endpoint protection management into one solution. Integration and automation provide ease for service providers by reducing complexity, increasing productivity, and decreasing operating costs.
Acronis Integration with Logsign
The following substances mention the definition of Acronis and the event process after integrating with Logsign.
Acronis CyberCloud sends the alerts, which comprise the Acronis CyberCloud Monitoring screen at Acronis API.
Logsign integrates with Acronis API, and Logsign requests available alerts on CyberCloud API after authentication.
Acronis API sends these alerts as a response to that request.
Logsign enriches, normalizes, categorizes and shows on the Logsign Search screen all alert types as an event.
Logsign creates vendor-specific alerts, reports and dashboards. Incident Management is also available for anomaly alerts. These are transferred from Acronis API.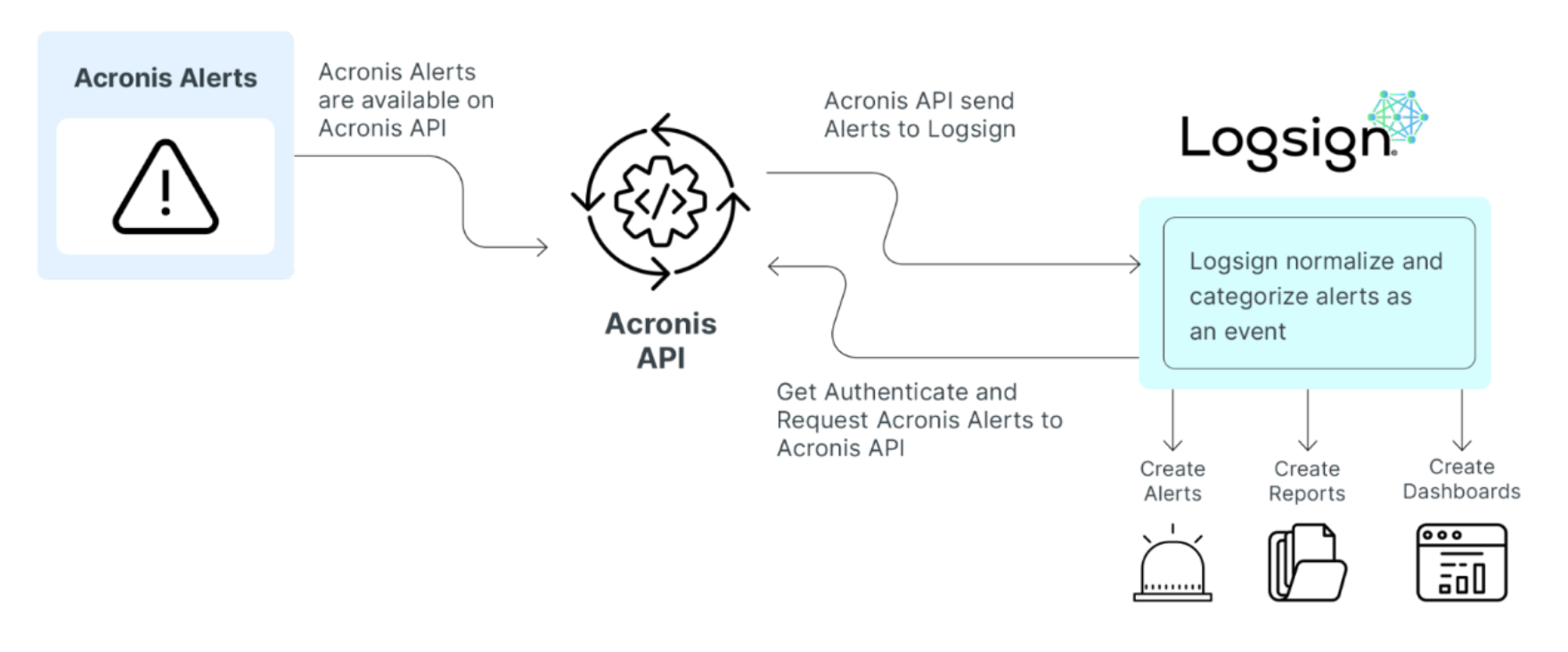 Use Case Scenarios for Logsign-Acronis Integration
Sample use case scenarios are available for this part.
1. EDRIncidentDetected Alert Type Scenario
EDRIncidentDetected alert occurred in Acronis CyberCloud.
Logsign gets that alert as an event, enriching, normalising and categorising that event.
Logsign Alert Engine worked, and Logsign detects EDRIncidentDetected, an anomaly for the Acronis CyberCloud device. Logsign sent an email to users to inform them about this alert.
Logsign created an incident for that event, and analysts can do incident management for this event.
The analyst understands this incident can occur over again and wants to automate the incident management process. Logsign provides an Action Rule Module to automate the process.
As a result, analysts handle EDRIncidentDetected Alert and create automation for the processes.
2. BackupFailed Alert Type Scenario
BackupFailed alert occurred in Acronis CyberCloud.
Logsign gets that alert as an event, enriching, normalizing and categorizing that event.
Vendor-specific predefined dashboards show all event types, including BackupFailed event type. Analysts can see all Backup Failed operations for integrated Acronis CyberCloud Devices and track them by time and all other attributes which came from Acronis API.
In addition, Logsign provides vendor-specific predefined reports for these events in pdf, excel or HTML.
On the other hand, analysts can create custom reports using different report types. Logsign has the capability to schedule these reports daily, weekly or monthly.
As a result, analysts track all Acronis alerts using Logsign dashboards, and Logsign provides vendor-specific reports for Acronis alerts.