Introduction
In this document, the working principle, components, and general approach of User and Entity Behavior Analytics (UEBA) will be explained.
What is User and Entity Behavior Analytics?
User Entity Behavior Analytics (UEBA) can discover cyber threats compared to traditional methods by using various analysis techniques, including abnormal situations in security. It creates detailed analyses, risk scores, and profiles that model standard behavior. This is used to detect security breaches and other malicious behaviors. UEBA makes it easier to determine if a potential threat is an external party or a real threat that creates some form of risk through negligence or malicious intent.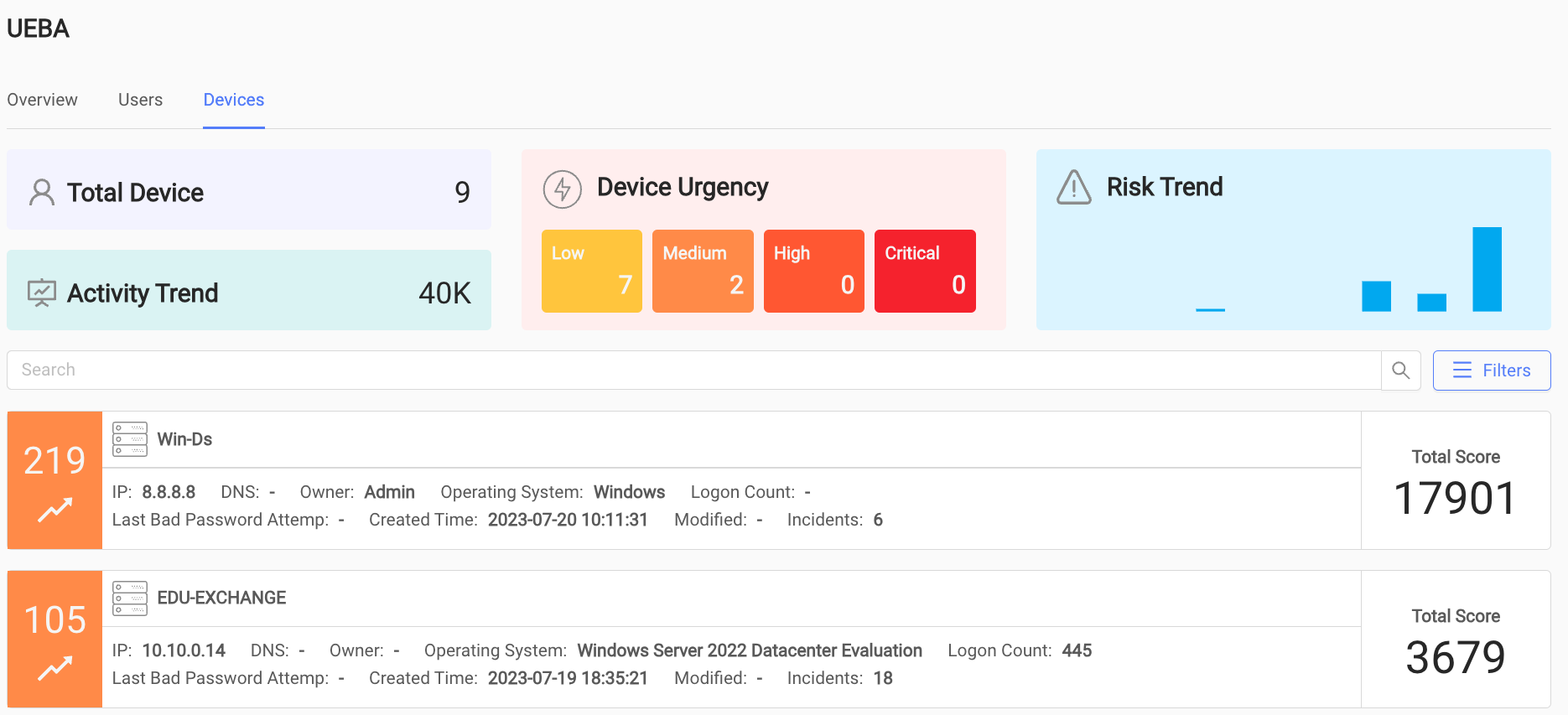 Logsign UEBA uses advanced analysis, collects data through assets and identity, and analyzes specific threat data to determine whether certain behavior types pose a cyber threat. Based on this, it provides a comprehensive overview and creates a UEBA card for you.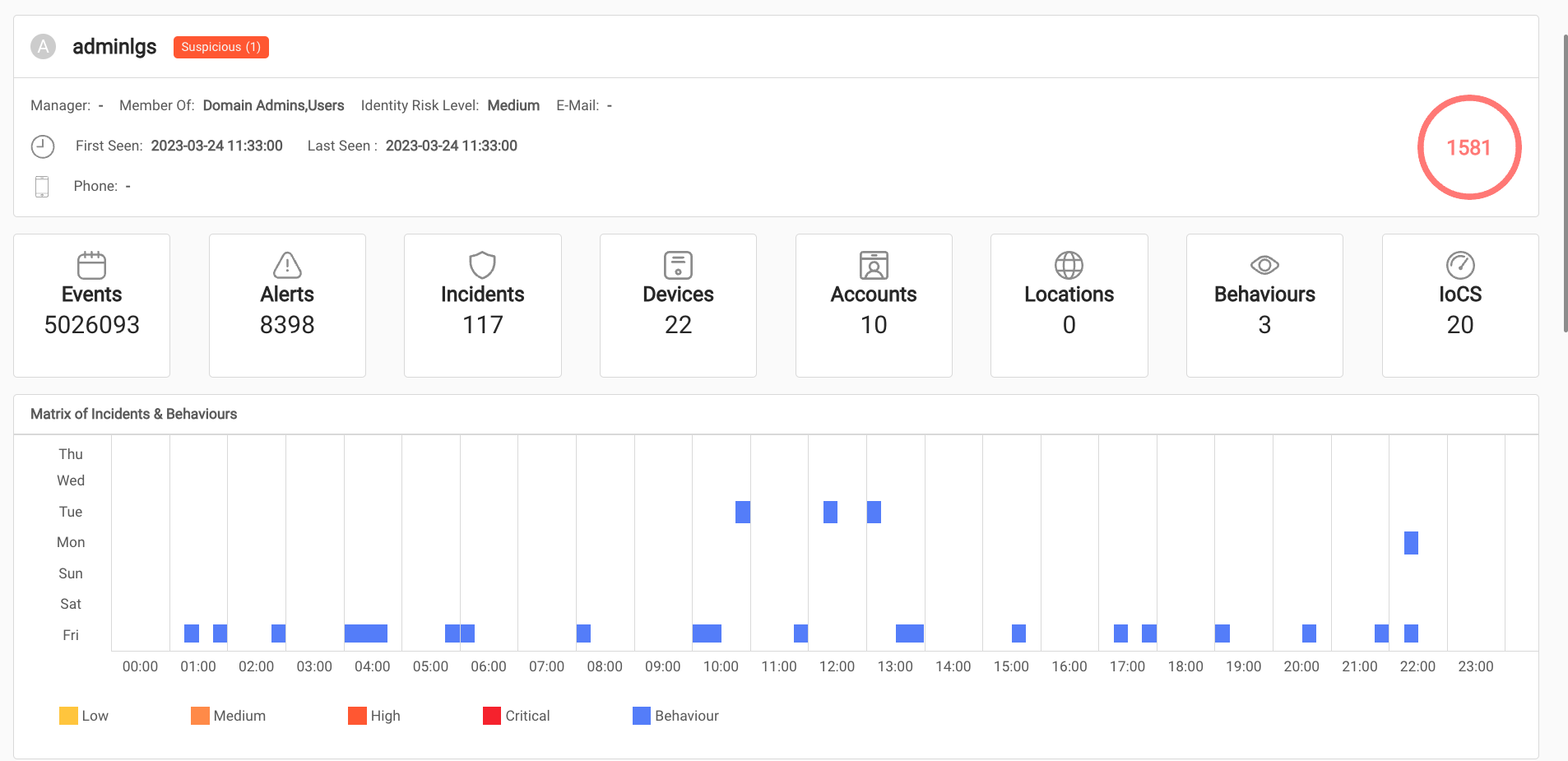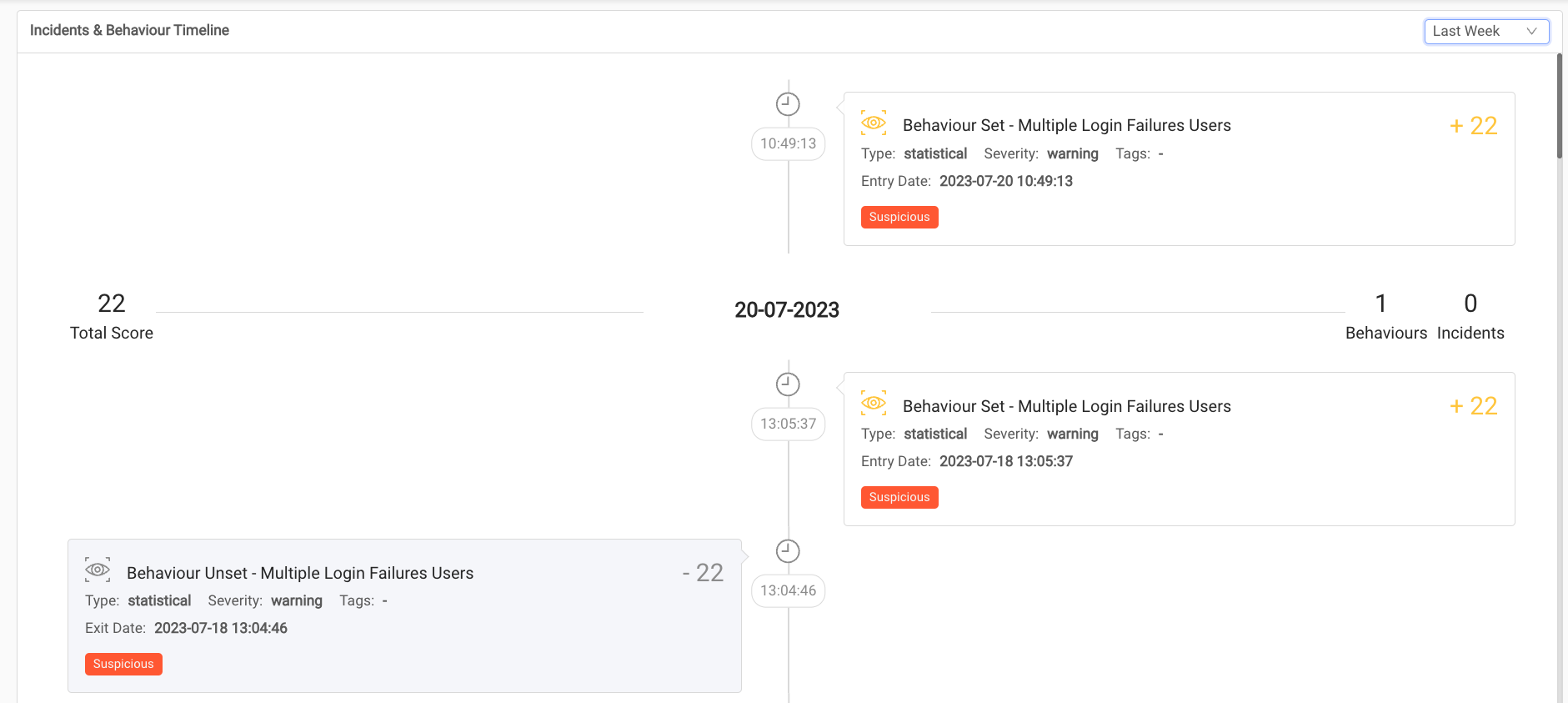 Why Do We Need to UEBA?
Logsign UEBA model feeds on assets and identities in its structure to find cyber threats and associated popular cyber threats through effective methods, significantly speeding up the detection and response times of behaviors. It evaluates events to detect abnormal and risky behaviors. By comparing usage behaviors for users and devices, it presents you with data on the number of events and urgency scores on a timeline, personalized mathematical structure to assess the level of risk score and the risk trend over periods.
The ability to determine how user behavior is normal or abnormal in a network is of great importance. User behavior analytics provides you with data to identify potential threats and easily detect abnormal values, allowing you to identify threats more easily and quickly, investigate them, and prevent attack situations.
UEBA reduces the workload of security analysts, speeds up threat detection and response, and provides advanced interfaces and rapid solutions for action. It reduces false positives from prioritized events by taking on your resources to respond better to threats that could be effective, both software and hardware. Logsign UEBA is built on the Logsign USO Platform with best-in-class data breadth and the latest technology.
What can you do with Logsign UEBA ?
User Behavioral Analytics – Behavioral analytics is helpful in identifying malicious events and preventing threats such as cyber attacks. Behavior and asset analytics examine activities and choices within a modeling architecture. Logsign USO Platform collects and analyzes logs through pre-defined rules to detect correlations, while behavioral analytics tools complement security by providing analysis.
Real-time risk scoring – The system utilizes real-time behavior and incident data to generate risk scores for users and entities. It takes a holistic approach by bringing together different data streams across all your resources. By feeding into our UEBA algorithm from various parameters, it makes it easier for you to detect risky assets and users.
Behavior-based – Logsign UEBA has the ability to determine whether any behavior poses a threat by feeding on behavior analysis techniques. It provides an effective way to protect end-user servers from malicious and potentially malicious activities.
Incident Management – The Threat Intelligence Service collects feeds from various global sources to help you prevent and mitigate cyber attacks by performing comprehensive threat analysis that will help you work with threat data and provide you with more information about threat actors/sources. Logsign UEBA uses internal threat feed sources for risk prioritization
Discovering the dynamic structure – The static structure of rules and correlations requires constant updating. With advanced analytics, the Logsign UEBA model provides analysis of dynamic user movements. When an abnormal situation occurs, it enables the detection and analysis of potential risks, as well as the elimination of false positives.
Matrix of Incidents & Behaviors – Logsign UEBA combines multiple incidents and behaviors in a time chart that shows them periodically, using a color scale determined by the highest severity that has occurred.
Top Notables Users & Devices – Logsign UEBA not only focuses on analyzing behavior on users, but also provides an overview and dynamically groups behavior analysis for devices in a list format.
Benefits to be expected
Its own architecture analysis system plays a complementary role in detecting all abnormal situations that may pose a potential threat.

Logsign UEBA detects insider threats, targeted attacks, user and device changes, and data breaches.

Instead of monitoring security events or devices, it tracks all assets and identities.

Logsign UEBA reduces false positives and helps eliminate alert fatigue by using advanced analytics to identify potential threats and anomalies, and prioritize them based on their severity. This allows security teams to focus on the most critical alerts and take action to prevent potential threats before they cause damage.