CSV Format Log File Integration
CSV Log File Integration with File Share (SMB) Method
1. You can use file sharing method to see .csv format logs. Start to add sources through clicking Add New Source button on Device List menu, under Settings>Data Input option.  

---
2. The method is determined to collect logs. SMB method will be selected to collect .csv format logs on any directory.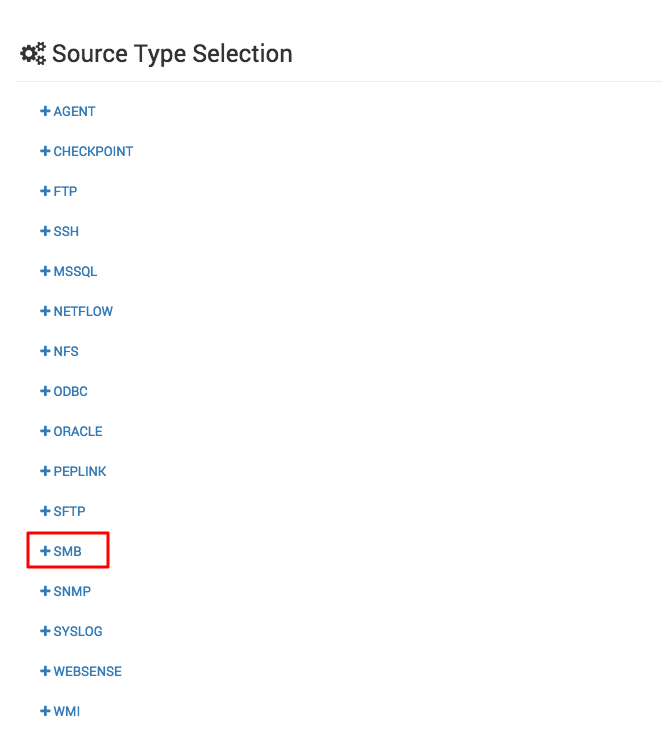 ---
3. Type the necessary information for checking connection and then click Check Connection.

---
4. If the information entered is correct, you can see the folders and files that are open to share as in the screenshots below. 
Note : If a non-Administrator Domain User will be chosen, you need to add this user with opening sharing settings in the Security section of Properties section on the related folder. 

---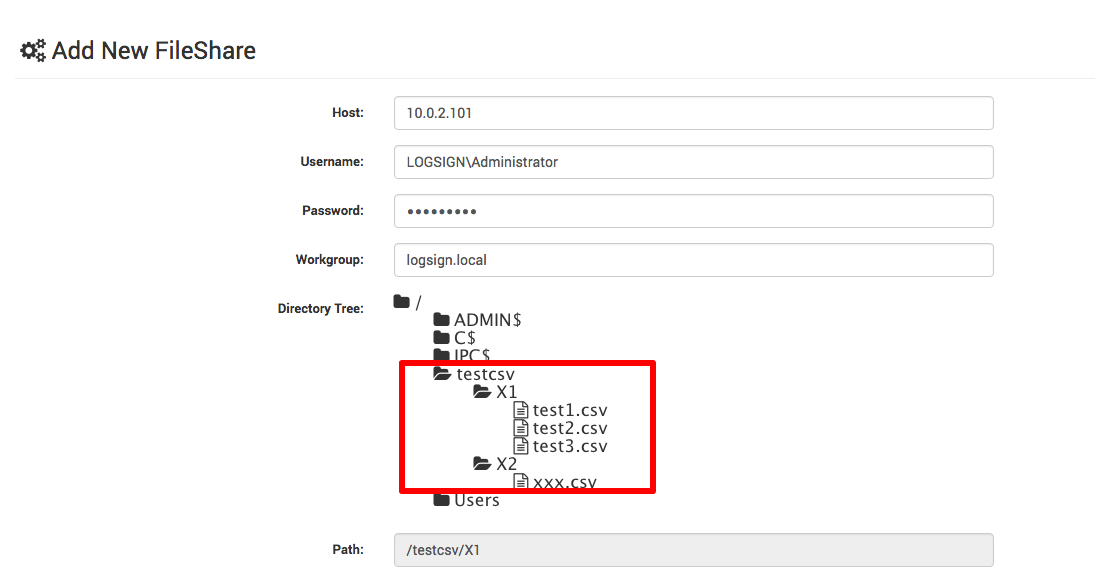 ---
After you select the directory, you need to click  Add Include Pattern button to enter the information of .csv log files and Vendor/Product names. After giving a name to the pattern, we will enter a pattern information including the file extension to select the which files will be chosen.
As in the screenshot 1, if there is only single file (test.csv) under a single folder or all file formats are .csv, *.csv will be written to Include Pattern area. (We assume that there is a single file for this example.)
As in the screenshot 2, if there are multiple folders (X1 - X2) and files (test1 - test2 - test3) and all log files formats are .csv, we will write X*/*.csv to the Include Pattern area.
After entering the pattern information, LOGSIGN will be chosen as Vendor and CSV will be chosen as pattern. 
​

---
5. We will enter the character that is used between the log fields to the Delimiter option. (e.g. ", ; |") As shown in the screenshot below, we will enter the comma "," due to comma is used. 
In the Column area, the field set that is located on the top line of the log file (the selected top line as in the screenshot below) is copied and pasted as a whole.

---
After entering all of information, we will click Save Pattern button to continue.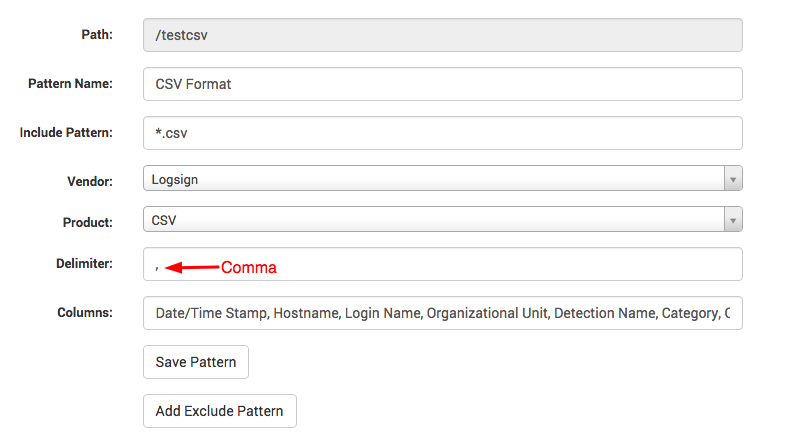 ---
6. Finally, we will enter a tag and a description for this source and then click Save. Thereby, we have added a source with .csv log format file to Logsign.
 If you want to display previous logs before adding the source, you can select the "Read Static Files" option.